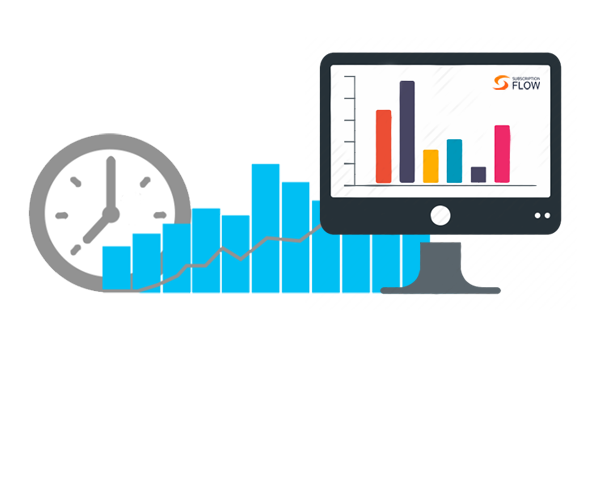 Understand the State of Your Subscription Business with Real Time Reporting and Actionable Insights
SubscriptionFlow will effectively manage all the transactions done by your customers. Our built-in custom reports and configurable dashboards will keep managers, customers and stakeholders better informed. Real-Time Analytics such as churn rate, subscriber life-cycle, and monthly recurring revenue assist the end-user to gauge and track subscription plans right from SubscriptionFlow's intuitive dashboard. Our financial reports like invoice details and net revenue will equip you to get a deeper understanding of your business revenue and subscription billing. By joining hands with us you can expect your business and operations to grow more effectively and efficiently.

Key Performance Indicators
Our subscription business analytics software dashboard gives a snapshot of the key metrics. SubscriptionFlow allows you to plan for cash flow predictability through its key performance indicators such as usage trends, monthly or annual recurring revenue, renewal rates and customer lifetime value. As new developments in the domain of revenue and subscription take place, financial executives can find themselves in a sticky situation where they have to adopt manual means of reporting. Don't put your business at risk by using inadequate CRM reports. Our state of the art tools will meet your expectations in a personalized and immediate form.

Automated Custom Reports
SubscriptionFlow's Automated Custom Reports enables customers to develop and produce intricate, detailed report data with the aid of comprehensive scheduling tools. It is important to bear in mind that successful reporting depends on how the data is organized and presented. Traditional systems follow rigid hierarchies that limit the easy flow of data and how it is accessed. To combat this problem SubscriptionFlow offers a data model that coincides with your business model. This is made easy through real-time customer analytics which includes product usage, customer segmentation, payments and credits, invoice ageing, sales rep performance, taxes, and much more.

Financial Calendar
Another powerful feature of SubscriptionFlow is its Financial Calendar which will give customers a complete round-up of all the activities that transpired on any given day. You can always stay one step ahead of your billing cycles by taking precautionary measures to cut down on failed collections and maximize customer retention.

Highly Customized Dashboards
We understand that simple subscription systems have limitations in terms of creating customized Dashboards and confined viewing capabilities. All this leads to slow-down of information in a timely manner and hence resulting in hurdles for management. SubscriptionFlow's Dashboard wizard provides an easy way to create valuable views with enhanced security, giving real-time information to track the health of your business. Our account-specific Dashboards also provide help with customer support.
Our team of experts is on standby ready to give a holistic view of your entire organization. Call us for a quote or book an appointment today.