SubscriptionFlow has the ultimate subscription management software in store for its customers to utilize automatic billing. Automating the billing and invoicing process has allowed businesses to set up recurring payments for their clients. For their subscription-based needs, it is important that businesses have the right subscription software in place. To fully take advantage of automatic billing and reduce the effort needed to generate invoices or billing customers on a monthly or yearly basis, subscription management software from SubscriptionFlow has introduced state of the art software.
Whether it is a small business or large enterprise, companies are now shifting to an optimal solution for their billing and invoicing process. We know how time-consuming and error-prone billing and the invoicing process can be. We have aimed to provide our customers with the ease of automatically generated invoice that is accurate, customizable, and performs tax calculation, discounts, refund, etc. automatically.
Using automatic billing has a major impact on the speed at which processes take place. Normally, businesses do not have the time to check every invoice or remember the subscription plan of every customer. Every bill is supposed to differ on the basis of usage, upgrade/downgrade, billing frequency, and add-ons or discounts being offered. That is why it is humanly impossible to keep track of when and how much each customer is going to be charged. To take the burden away from businesses so they can direct their energies into achieving business goals, SubscriptionFlow has the ideal subscription management software that offers more than just recurring billing. At a reasonable price USD 30, you too can get access to impeccable features designed by our developers for billing, invoicing, subscription management, customer relationship management, payment processing, etc.
Send Error-Free Invoices to Your Customers
Let's take a look at the tools which contribute to the automatic billing process within our subscription management software. First of all, with minimal effort, you can set up automatic billing and invoices for your customers through the intuitive and user-friendly dashboard. Once the settings have been made the billing process is automatic and triggers on a recurring basis. Creating error-free and quick invoices will no longer be a hassle with automatic billing and you do not have to keep a check on your customer's subscriptions. Our smart functionalities allow you to cater to each customer's needs while not spending much time and effort. As your customers grow, using automatic billing and recurring payments will not put any strain on your financial management. The invoices generated with our software can be fully edited, drafted as you choose, and take all arrears into account like sales tax, etc.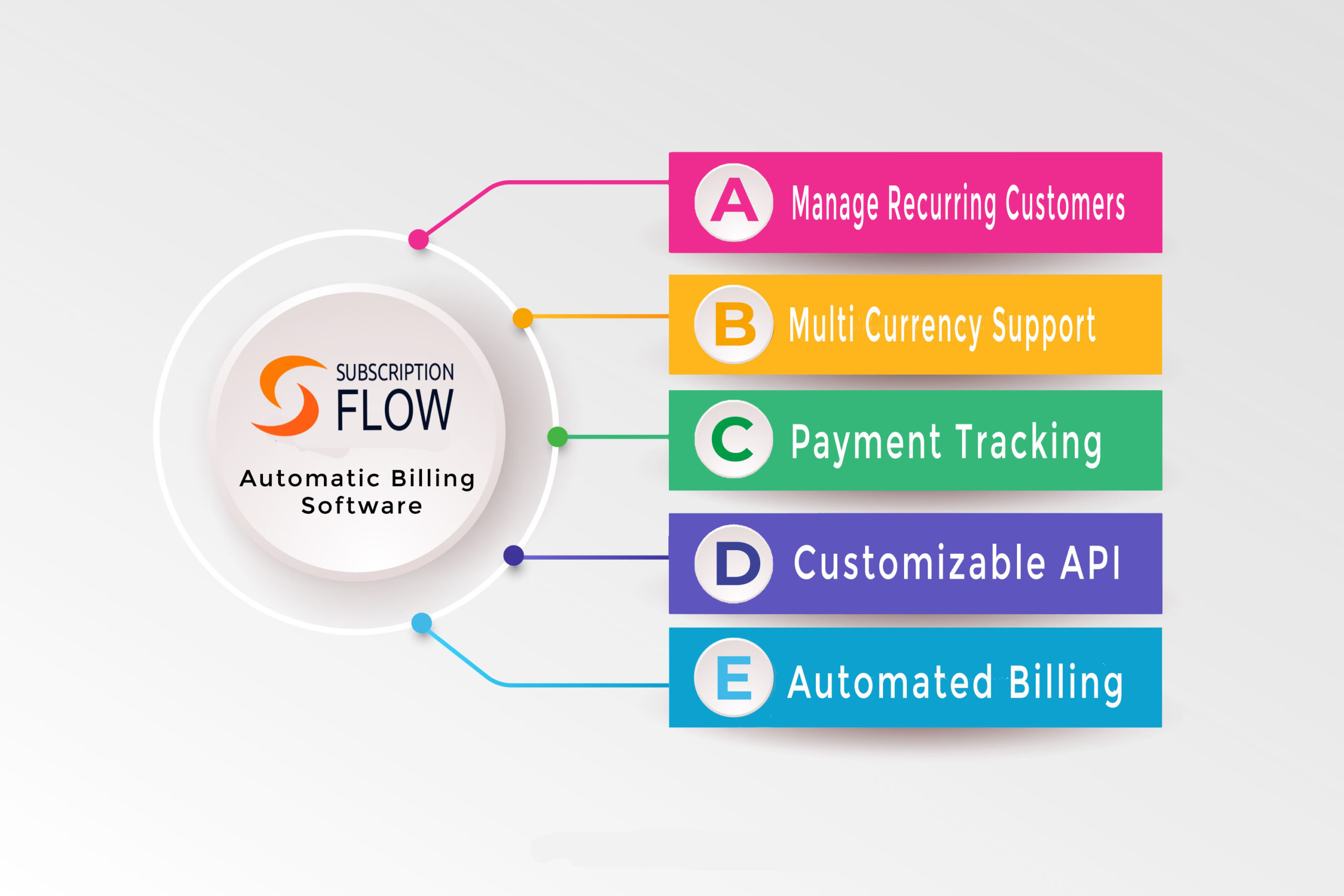 Stay In Touch With Automatic Email Reminders
Another important feature that caters to automating processes for our clients is automatic reminders. Often times, keeping track of your customer's payments can consume a lot of time and effort. When your billing process is automated it also implies that customer reminders are also sent out automatically. To avoid complications, our management software sends out email reminders to customers about their outstanding payments. This feature has been designed in the view that our clients are empowered to properly handle the customer subscription lifecycle through automation. Building a direct line of communication between you and your customers will help maintain an excellent standard of customer service and transparency. Your customers will also be notified in case their subscriptions are to be cancelled.
Get Business Insight with Real-Time Reports
Referring to the automation of the billing and invoicing process, it is not limited to just automatic reminders or fast processing. SubscriptionFlow believes that customers should be able to view and scale their subscriptions and with the growing customer base, we want to empower our clients with real-time custom reports which is accurate and helps them make vital business decisions. For businesses that are offering recurring payments to their customers, they should be able to develop reports with scheduled tools from key performance indicators. These include usage trends, recurring revenue, monthly subscriptions, customer activity like upgrades or downgrades, and payments, etc. These automated custom reports can be viewed from a highly intuitive dashboard which can give you an insight into your business health.
In today's age, it is not possible to survive without software that streamlines and automates your billing and invoicing process. With our subscription management software, our clients are in complete control of what features you want to utilize. Our software is such that it grows according to your growing business. Once you have automated your billing process, you will be destined for a productive and streamlined work environment that is armored against any errors. SubscriptionFlow is here to help you achieve your goals so get started with us today.