Overview
Coping up with recurring payments need a sheer set of dedication. A business cannot run its operations smoothly for long with manual exercises. It has to be another way where businesses can perform their tasks that always seemed daunting with just a single snap. Taking the point further SubscriptionFlow has designed recurring payments software that will do all the work automatically for businesses in just a couple of snaps. Before we dig its pros, let's take a glance at how to process recurring payments for a business.
Recurring payments can be defined as continuous payments charged automatically after a set period of time. The recurring payments software helps you process your customer's payments in an effortless way. No matter whether you are a mid-size or enterprise-level business, recurring payments software powered by SubscriptionFlow entertains everyone.
Automation in Recurring Payments
As mentioned earlier, recurring payments are automatically charged payments after a definite interval on the exact date and time frame (say on a monthly or annual basis). Moreover, SubscriptionFlow offers customization to its clients at every step. How? When it comes to processing payments SubscriptionFlow lets you customize your billing cycles any time you want to. So that you can experience a flexible payment processing. We do not want you to restrict yourself to the old fashioned monthly or annual billing cycles in order to collect your recurring payments. Instead, go the other way around and take charge in your hands and run your business according to your terms.
There are different types of invoices that the recurring payments software can develop every time a payment is processed. Currently, SubscriptionFlow deals with two types. One, Recurring Invoices. Second, Consolidated Invoices.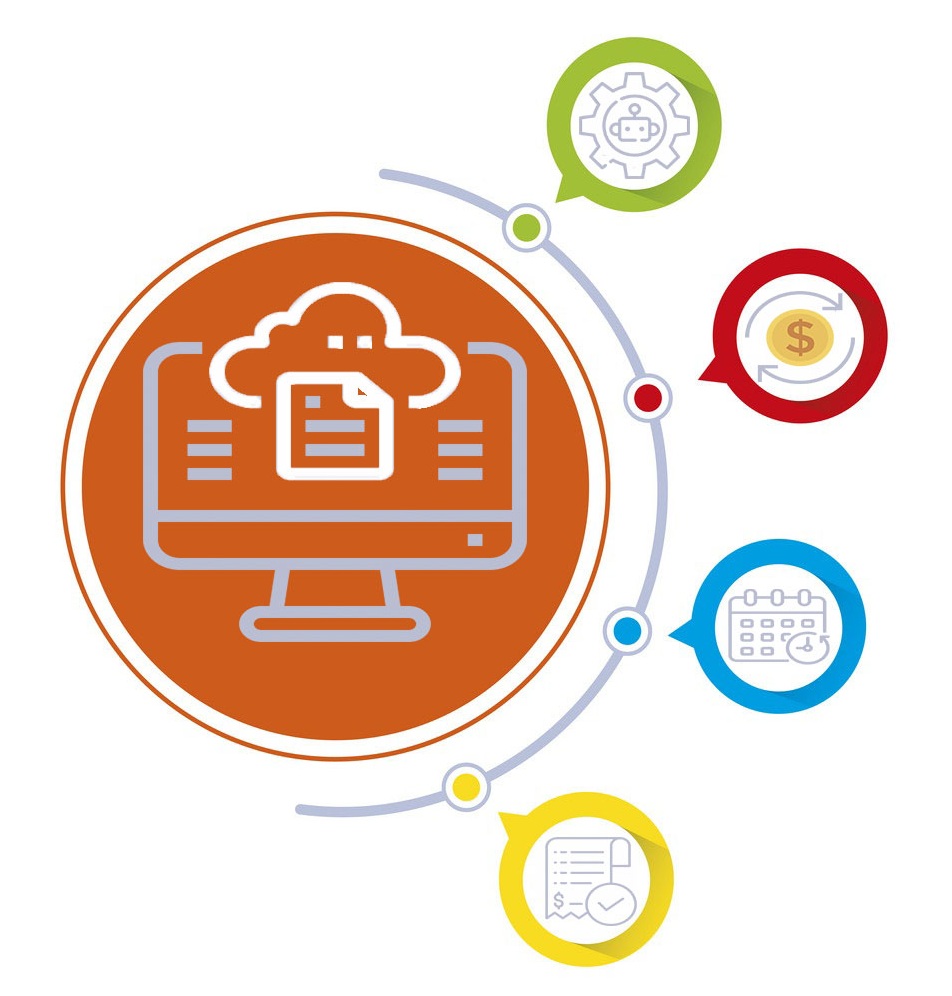 Diverse Invoices
Recurring invoices helps you automate the entire payment process at a fraction of the cost. Each paid invoice adds up to the total revenue of your business, and our software ensures the creation and sending of all the invoices in a professional manner. Through recurring invoices, you can make sure you collect your recurring payments in a timely manner. Whereas Consolidated Invoices combine or fuse the charges in a single invoice to send to a customer with multiple subscriptions. Or when the recurring payment for all subscriptions within a business has to go out to the same person in charge of payments.
Highlights of A Recurring Payments Software
Sometimes recurring payments software is also known as the subscription management software. These both works in a similar way. They both help businesses to streamline their payment and billing operations with the help of minimal clicks. Billing and executing payment operations with the assistance of recurring payments software is error-free, flexible and efficient. Such software assists businesses to entertain the bulk of payments and bills at the same time without overwhelming other operations.
The main functionality provided by recurring payments software is automatic billing. From creating distinct bills to creating their invoices to storing the customer's orders. The recurring payments software achieves every bit of it through its automatic billing feature. Mostly subscriptions are considered as services that customers opt and then renew after a definite interval. Earlier the companies used to add customer details repeatedly but not now. The recurring payments software is efficient enough to add customer information on repetitive terms on the basis of the information stored in the databases. This makes it a less time-consuming option for the practical world.
Easy On the Budget Software
Today, subscription organizations want to cut their operative and employment costs. Rather, they want to work efficiently through automated software that can bring them more business. Under all these conditions, recurring payments software holds true. Such software has enabled businesses to automate all their payment operations against the cause of a few clicks with minimal human intervention.
With everything taken into account, recurring payments software assists companies not to worry about the client's subscription plans. From upgrades to downgrades, from initiation to canceling of plans, from charging to producing reports. The repetitive recurring payments software will deal with each low down of subscriptions.
Subscriptionflow Is a Name To Remember
Putting all this in a nutshell, a recurring payments system unites diverse functionalities, customized to automate different undertakings. This system rotates around the phenomenon of subscriptions. Regardless of your business size, if you are dealing with subscriptions or billing then you must incorporate recurring payments software into your business in order to avoid interruptions. Companies can now manage a customer's life cycle of subscriptions with no stress yet in a consistent way. In the wake of getting recurring payments services from SubscriptionFlow companies do not need to manually charge and send their invoices by hand. SubscriptionFlow has simplified the whole process for businesses so that they can furnish their services as per their client demands and requirements.