Subscription management software is known for improving growth for many businesses. This software has single-handedly enabled companies to drive more subscription revenue. Particularly with recurring payments, it is important that small businesses have an automated system in place like subscription management software to help businesses handle the invoicing and billing process. There is a lot that goes into generating invoices and collecting bills. From tax calculation to adding discounts or coupons on the checkout page, the invoicing process can be intimidating. Many times small businesses spend a lot of time assembling their invoices on excel sheets. Subscription management software works on top of recurring payments for small businesses to give them the support they need with automated payment processing.
SubscriptionFlow has the right solution to the hassle of billing and invoicing processes for small businesses. Although our software caters to large enterprises and medium to small businesses, we understand that every company has different needs and deals with clients differently. However, there is no doubt that subscription management software is essential for running your business operations smoothly. With our software, you can generate invoices and process payments within a few clicks. Automating your recurring billing will allow you to set your billing cycle to a monthly, bi-weekly or yearly basis and set different pricing plans like usage-based, etc. Furthermore, you will be able to calculate tax, global tax, add-ons, and discounts on your checkout page and present your clients with effortlessly created invoices. Our subscription management software will also allow you to set multiple payment methods to cater to different customers and accept different currencies so your customers do not abandon their shopping cart.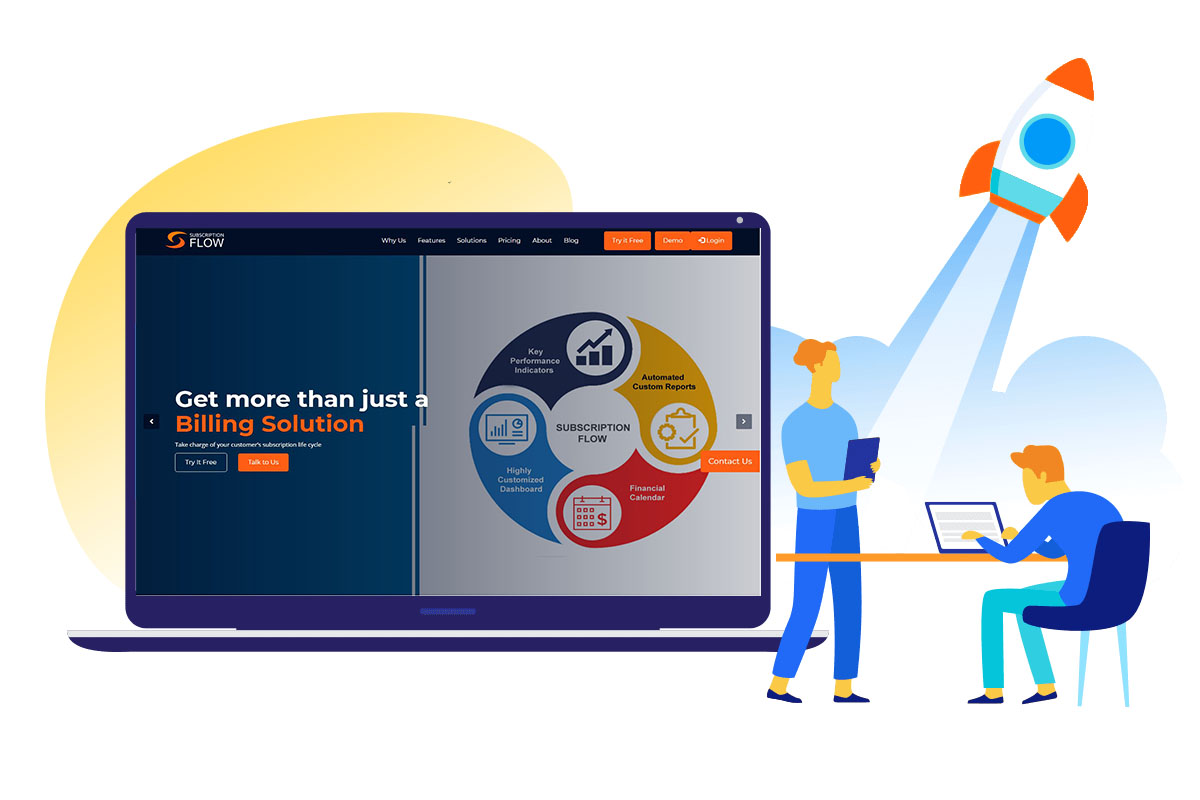 We understand that as a small business you might think that working with a subscription management software might get tedious or a wasted investment that could be spent elsewhere. SubscriptionFlow believes that recurring or subscription management software can be customized to cater to your needs so you are not overwhelmed by so many features and it's easy to use design will suit your needs. Before considering to integrate a subscription software, it is important that you review reasons for why many companies are relying on subscription management software to execute their payment operations. It would be amiss to not delve into the tools of subscription management software and what makes it worthy of your investment.
Make a Valuable Investment In This Software
First of all, subscription management software for small business cuts down costs that are spent on building and managing your own software. There is no coding or development required for this software. Our expert team of consultants can help you integrate this software seamlessly into your system and provide training for your accounts team to become experts in using the software. Furthermore, the costs spent on hiring professionals to handle your invoices will be spent on marketing or improving customer service. Basically, subscription management software removes complexity from the billing and invoicing process. We understand that this process is not limited to just generating invoices or collecting payments from clients. Your sales and growth calculated from the collected payments help you keep track of your business health and return on investment. This is why we want to make sure that with our cost-effective software, you can always stay abreast of your financial health and make the best decisions based on that.
Handle the Subscription Life-cycle Efficiently
When it comes to automation the most important point to remember is that your customer's subscription lifetime is handled by the software itself and there is little need for intervention once you have made some settings. Subscription management software not just involves automating the payment process. It also focuses on improving communication with your clients via automatic notifications and reminders in case their payments are overdue or failed. From billing your customers on their single or multiple subscriptions to keeping an account of any changes, upgrades or downgrades takes place, nothing is too complicated for SubscriptionFlow. Even add-ons, calculating taxes, and adding discounts to each customer's invoice is easy with subscription management software. The speed, convenience, and simplicity of subscription management are unmatchable.
Reduce Churn with Subscription Management Software
Automation of your billing process will also allow you to manage subscription in an efficient manner with churn reduction through dunning. For small businesses, it is important to have a system in place for you to avoid involuntary churn that might be happening because of failed payments. We have automatic payment retries so you do not have to follow up with your client incessantly for failed payments. Smart dunning is an automatic process so you only need to set the schedule of retries and once that fails you can choose when to send an email reminder to your customer regarding failed payment. After that, if nothing else works, there is an option for your system to cancel the subscription after a set number of retries have been performed. In the end, our goal is to help your business reach its full potential and in this age, automating your billing process and subscriptions is the right place to start. For small businesses, this software stands as a cost-effective and valuable investment and with our software, you will be able to realize your business goals in no time.